Transactions
Go to Shop section, select Payments and click Transactions. All transactions are listed.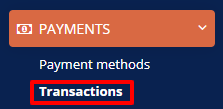 You can Filter 
them for easier viewing. Example: choose status "Completed" and click Filter.
You can view each transaction by clicking View
. You will see details about transaction, cart and order. You can View cart and View order for more details.