Select your colors and font
Your chosen theme comes with pre-selected primary and secondary colors and font.
To change the colors and font, navigate to the SITE menu in the header of your DG1 Admin panel, click Edit site and select the Style tab.

You can set your primary and secondary colors by clicking the selection boxes within the Colors and fonts section. This will open a color picker, where you can choose your own color by moving the cursor on the right and clicking on the center area to define the exact swatch you want. The procedure is the same for both primary and secondary color.

Whatever color you choose, you will still get to see the basic color of your theme on the left in case you would like to revert back to it later.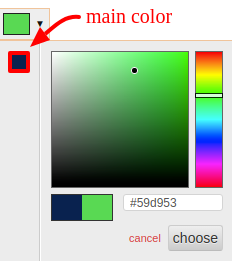 To choose a different font from the one that comes with your theme, click the grey field next to Font and click through available fonts to preview them in the Sample text window below. Once you have found the font you like, confirm your selection by clicking Submit at the bottom of the page.