Availability
Go to Availability.
Choose your Booking group. Example: Hotel rooms.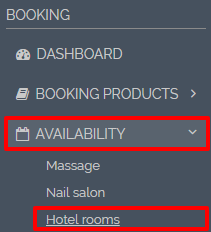 You can choose between a Calendar view and Normal view by clicking slider in the top right hand side corner

.
Click Add . Booking group is already selected, but you can change it, if you want to.
Click Add New .
Enter details:
General
Write a Rule name (Example: Rooms availability).
Go to Booking product section and add number of Available bookings (Example: 10).
Select a Booking product. Check the box next to it and click OK.

You can add multiple booking products by clicking + Add new booking product 

.
Set the Priority to your likings.
Note: Rule with highest priority will override rules with lower priorities.
Availability
Set the Time frame (Start date/End date). Leave slider to Open if your business is opened every day of the week.
In case of booking type with time slots add Number of items that will be available in this time slot, then enter start time and end time. To add more than one time slot, click Add new time slot .
Choose days in week. Example: At the moment they are all checked so this means my booking products are available every day of the week.
To save a booking rule click Submit .
This also means your booking product is available for booking in the front-end.