Add a new page
To add or edit your website's content, go to WEB CMS section and go to Pages in the sidebar menu.
To add a new page, click Add new page

.
First, add the Title and URL of the page to the Settings.
To start building your page, navigate to the Sections tab and click Add section

.
A pop up with all the content categories appears. By clicking the names of the categories, you can see a preview of all the sections from the selected category.
Click on the section preview and this section will be added to your page.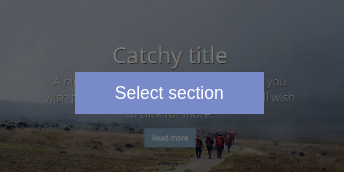 Add content to your sections and click Save & Publish

.
To navigate back to all the pages, click Back

.
Make sure all your newly added content is saved before you complete this action.
Edit a page
To edit existing pages, click Edit

and change the content. To save the changes click Save & Publish

.
Delete a page
To delete a page, go to Pages, find the page in the page categories and click Delete

. Confirm selection with Yes

.