How to prepare segment
Go to Marketing section in your DG1 platform.
Click Segments.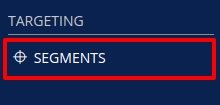 To add a new segment click Add .

Enter details for a new segment:

Write a Name
Add Description (optional)

Fill in the conditions to meet your segment. You have options to add as many conditions as you wish.

Use the wizard to select if all or any of the conditions are true or false.
Then select a condition from the drop down to be included in this segment.
To delete a condition simply click the tiny on the left side of the condition.
By adding conditions you will immediately notice the segment reach in percents and actual numbers.
To save the new segment click Submit .