Booking products
You can add Booking products/services for your customers.
Go to Booking products and click Booking products.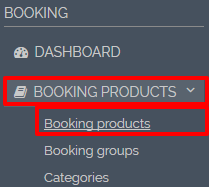 To add a new booking product click Add .
Enter details:
General settings
Write a Name
Alias URL will be added automatically
The Description will be visible in the front end view
External URL will redirect user to this URL instead of opening product page
Site specific Settings
Fill in the Price per day.
Add Tax rate. Be aware this tax rate will be included in the price.
Example: If you want to charge 100 USD with tax included, your net price will be 87 USD. If you wish to add tax on top of 100 USD then you must type in 115 USD, if your tax is 15%.
Booking product duration appears only in the time limited booking methods. Add duration of your booking product in minutes.
Show price
Display on content pages - This means you will be able to add this booking item to your content pages in the Web CMS.
Display in products grid - This means the product will be seen in the product grid.
Display in booking - This means the product will be see in the booking process. If unchecked then the product will be disabled for booking but it will still be available if activated in a package deal.
Activate product - Uncheck this option to hide the product everywhere.
You can Deactivate product for a specific period.
Custom email recipient - type an email to which the confirmation of this specific booking product will be sent to.
Do not send mail to the default email recipient - Check this option if you wish to send confirmation email only to a custom recipient.
Capacity
Allows you to add additional costs for maximum number of customers per booking. Example: If default setting is set to 2 adults and 1 child, but room can handle 4 adults and 2 children, you can always charge additional costs to the original price. You could also allow pets and charge for that. You can add or remove multiple booking product capacities.
Important! When adding costs to the default price per room, be careful you really change the capacity of people to a higher one, otherwise, everyone reserving that room will be paying the higher price.
Example:
If your price with tax per day is set for 2 adults with 1 child, than make sure you do not set any additional costs on that price if the amount of people for that room stays the same (2+1). Leave the Add to price to 0,00 CAD.
But if you allow in that room another adult for additional cost, then add new capacity combination with Max. amount of people 3, Child 1, Add to price: 20 CAD.
SEO
Fill in the search engine for internal use and search engine for external use.
And leave this box checked, if you want your booking product to be visible to external search engines (Example: Google, Yahoo).
Attachments
Go to Attachments and add variety of images. You can add up to 8 photos to Product bottom gallery images.
Tip: To select multiple images click Select files, check the boxes and click Select in the top menu and then Select at the bottom. This way multiple images will be added to your Booking product.
Videos (How to add videos):
Click Add a video
Paste a video url from either Youtube, Vimeo or any other video sharing site. You can add up to three video links per product.
Click Submit .
Note! You can not upload a video from your computer.

Categories
Here you can add your booking product to Categories and select a Subcategory to which you would like to add these products (This is not obligatory).
Availability source
If the product you are adding will be the one defining availability, then leave it to Custom availability.
If the product you are adding will just upgrade an already existing product than select Another booking product. After that Choose a Related product. Click Select a booking product. The selected booking product will define the availability of your newly added product.
Example: You would like to offer a standard room with a picnic package. You would like to show this on your website as a new product with a higher price. Because your special deal refers to your standard room offer, the availability of room with picnic package will be defined by that standard room.
Personnell: Select people that are related to this booking product. Their availability will define the availability of the booking product.
Note! Personnel only appears if selected booking method in your booking group is Custom time.
To save booking product click Submit .
The following additional actions are available:
You can View it in the front-end .
You can View product details.
You can Edit product.
You can Copy product .
You can Delete booking product and confirm it with OK.