Booking groups
Booking groups predefine the industry, the services you are about to take online.
Creating a booking group is easy:
Go to Booking products and click Booking groups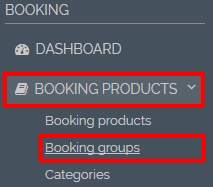 Click Add .
Enter details about new Booking group:

Write a Name, the name is the type of service you will implement to your booking. .
The Key is written automatically.
The next step is very important:
You must choose the type of booking you will offer to your customers. You have a few options:
Booking type:

Start date, end date - includes the exact dates customers can choose from. Example: Good for accommodation.

Set booking product capacities - If checked it will enable you to set maximum capacities for each booking item (Example: How many adults and children can stay in one room etc.)

Custom time - Allows your customer to choose a date and a starting hour, but you only provide the working hours and the duration of the booking product. Custom time is the only option which also allows you to add booking personnel to your booking items. This is a great option for any service business with more personal approach. (Example: Customer will be able to choose their prefered employee together with custom time)

Duration - Once you choose custom time, you can also choose between two duration options:

The customer has to select the duration of his booking in hours.
A duration is predefined for each booking product.

Predefined time slot - means you will set up exact time slots for customer to choose from.

Show booking product price - Decide whether you will show booking price or not.
Check Booking cancellation, if you would like to give your customers an option to cancel booking within certain amount of hours. Example: 24 hours before the service.
To save new booking group click Submit .