Adding contact manually
Go to Shop section in your DG1 platform.
Click Contacts.
Click Add .

Enter contact info:

Enable the status.
Add an internal Code for your contact (optional).
Balance status is set to Lead, but you can change it to Buyer.

Lead is an expression used for contacts who are saved in your contacts but have not completed a purchase yet. Contacts added to your mailing lists through completing a purchase in your shop are automatically added to a default mailing list and are set as Buyers.

Add Title, First name, Middle name if available, Last name, Gender, Date of birth and Owner.

The owner is the one who is an administrator and is adding a contact to the list.

Go to E-mail and click Add new .
Type in email and select whether it is Home, Work or Custom email. If it is custom just select Custom and add description. Email must be enabled in order to work. You can add multiple emails but make sure to make one of them Default.
Add Mobile phone number. The same type of rules apply as with email.
Do the same with the telephone.
Go to Addresses, select marketing and add an address. Add multiple addresses by clicking Add address .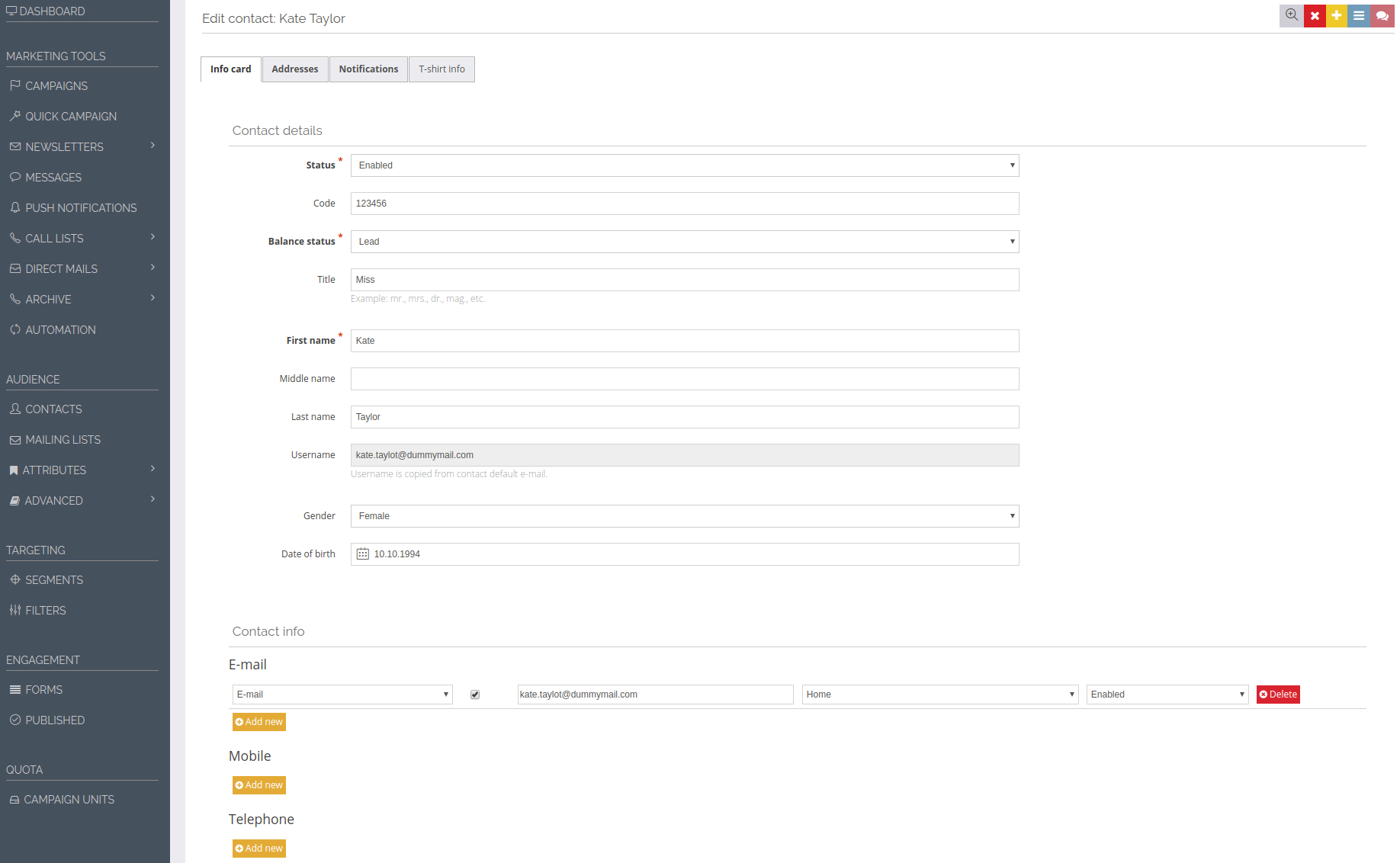 The attribute groups you added to all your contacts are visible when adding a new contact manually therefore it is easy to fill in the information of all attributes.

Under Notifications you define permissions to notify contacts about your offers/sales and other marketing actions within specific mailing lists and through specific channels. You have a default mailing list, which is a general sales list. Global notifications will be checked and added automatically.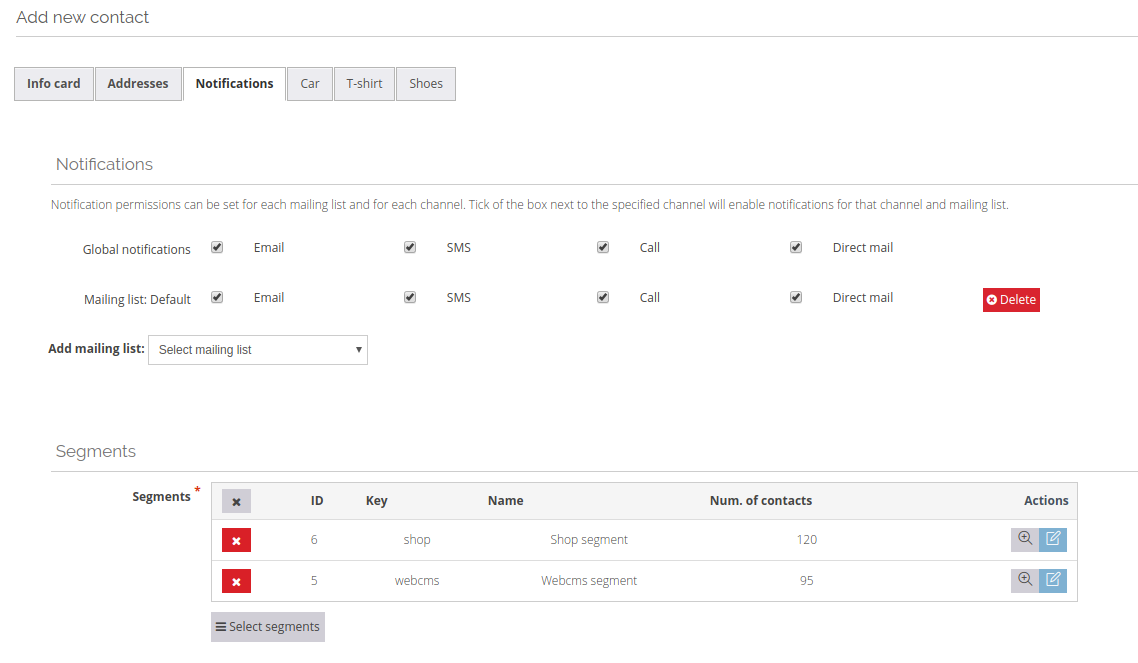 Note: The best way to gather information about your contacts is through forms. There is a special tutorial about forms so it is highly recommended you see it. Forms are the easiest and the best way to get your potential clients to turn into your buyers. When filling a form, your website visitors will automatically subscribe to your notifications and you will have all the control to direct their data into desirable mailings list and/or segments according to their interests and according to the content of your form.
You have 4 channels that define the type of communication with your contact: E-mail, SMS, Call and Direct mail. If you want to add permissions for notifications, add a mailing list to which you would like to add a contact. By clicking the mailing list you add permissions for notifications. You can subscribe contact to specific channels within the mailing list.

To delete a contact from the mailing list, click Delete

or uncheck all boxes.
Here you can add a contact to specific to specific Segment.

If you have added attribute groups in your marketing section, the last thing you need to do is fill in the information within attribute groups.
To save your contact click Submit .