Activate Push notification
Go to Marketing section.
Under Marketing tools click Push notifications.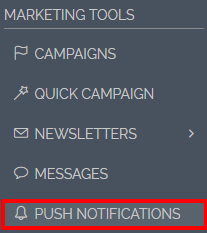 Click Actions and Activate campaign.

Check the information and click OK.
The campaign will change status from Initialized to Pending. At this stage you still can edit Push notifications.
Warning: If you have scheduled your campaign in advance do not go to further steps of processing it, because the scheduled campaign will process itself. In the end status will be changed to Completed.
If you want to process this Push notification immediately go back to Actions and click Process Now.
Confirm it with OK.
You have to refresh your website in admin to change the status to Processing and when you will refresh it again, it will change into Completed.
Note 1: Very important information about push notifications is their Time to Live (TTL) is 3 days. After that, no user will see these notifications. This also gives you an option, an opportunity, to keep adding new push notifications with a lot of marketing content. Redirect people to specific URLs if you have any discounts, promotions, sales, etc.
Note 2: Push notifications must be Enabled in your Manage site section.