Activate and process newsletter campaign
Go to Marketing section.
Under Newsletters click Newsletter.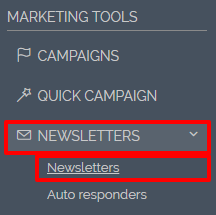 Click Actions and Activate campaign.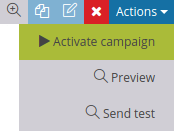 Check the information and click OK.
The campaign will change status from Initialized to Pending. At this stage you can still edit or delete a Newsletter.
Warning: If you have scheduled your campaign in advance do not go to further steps of processing it, because the scheduled campaign will process itself.
Once you are ready to send a Newsletter campaign, go back to Actions and click Process Now.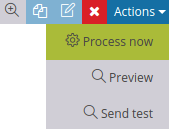 Confirm it with OK.
This time your Newsletter campaign will be sent. By refreshing the page you will see when the Newsletter will be Completed.