Artificial intelligence (AI) has revolutionized the way businesses operate in various industries, and e-commerce is no exception. With the emergence of AI language tools, businesses can now harness the power of machine learning algorithms to streamline their operations and enhance their customer interactions.
One of the most exciting advancements in AI-generated content creation lies not only in its universal potential to produce coherent and natural sounding texts, but the possibility to integrate AI language tools directly into SaaS platforms and systems, which allows for a seamless and uninterrupted content creation process. With its already comprehensive suite of features, DG1 now offers a new, fully integrated AI Copywriting functionality, powered by ChatGPT, that empowers users to generate compelling texts directly from their DG1 admin panel.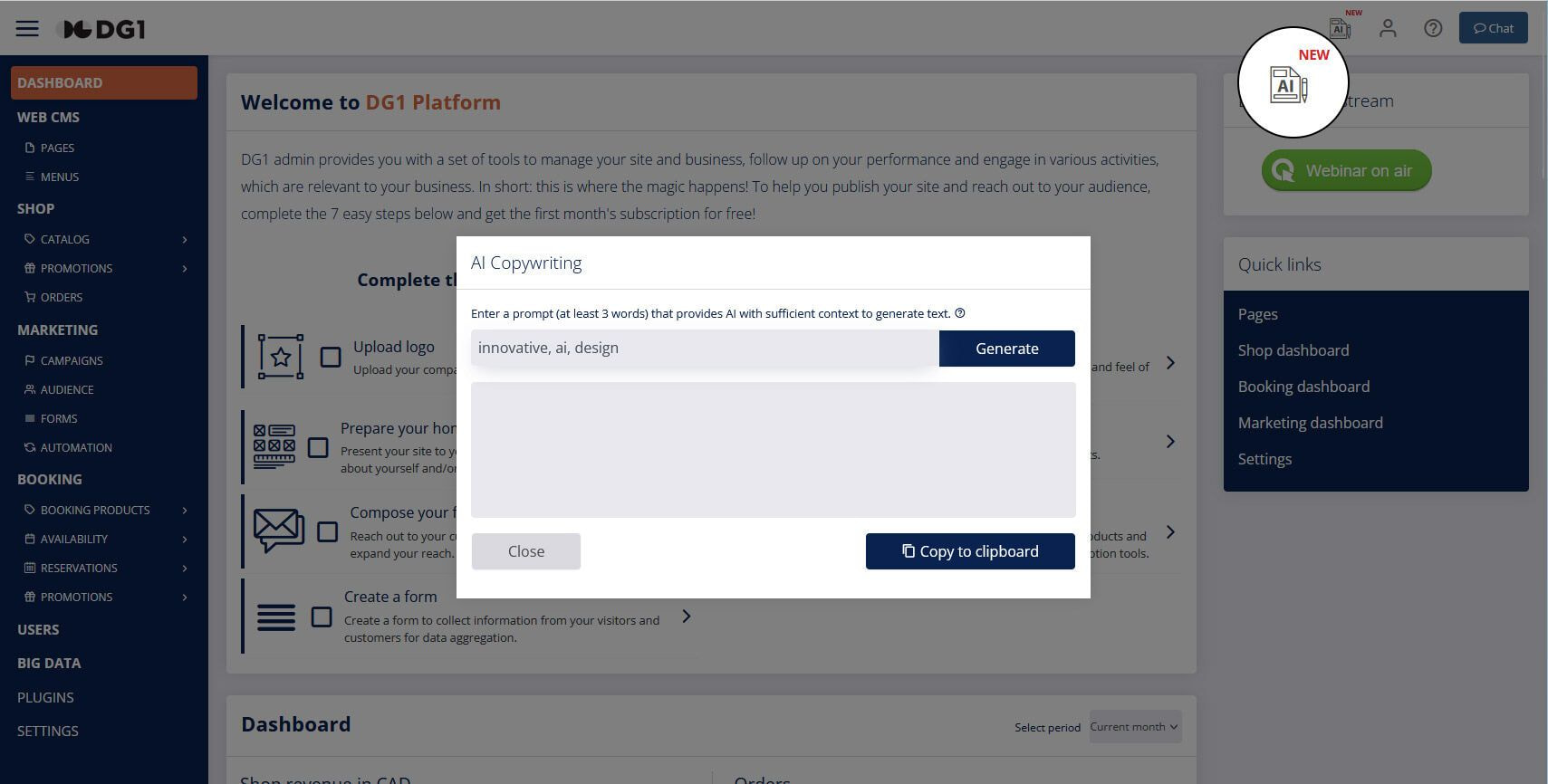 This advanced feature enables businesses to enhance efficiency, maintain consistency, improve customer engagement, and achieve exceptional results in terms of content quality, personalization, and search engine optimization using just one system. Whether it's blog posts, articles, videos, infographics, social media posts, reviews, or product descriptions, the AI copywriting tool eliminates the need to switch between multiple platforms. By having it readily available from the DG1 admin panel, businesses can immediately implement the generated content on their websites and landing pages as well as in their online shop or booking pages.
But the capabilities of DG1's AI Copywriting tool don't stop there. It also serves as an indispensable asset for marketing campaigns, enabling the creation of engaging content for push notifications, e-newsletters, and SMS messages – that can likewise be scheduled and delivered directly from the DG1 platform.
What makes DG1 a true all-round solution for content creation is also its integrated translation functionality, powered by DeepL Translator, which delivers high-quality neural machine translations directly into DG1's CMS. With this advanced set of AI language tools, e-commerce businesses can streamline their content creation processes, enhance localization efforts, and deliver high-quality, engaging content to their audience with utmost ease.
Ready to unlock the potential of AI-powered content creation? Experience DG1 for free and witness the future of effortless, efficient content generation firsthand!